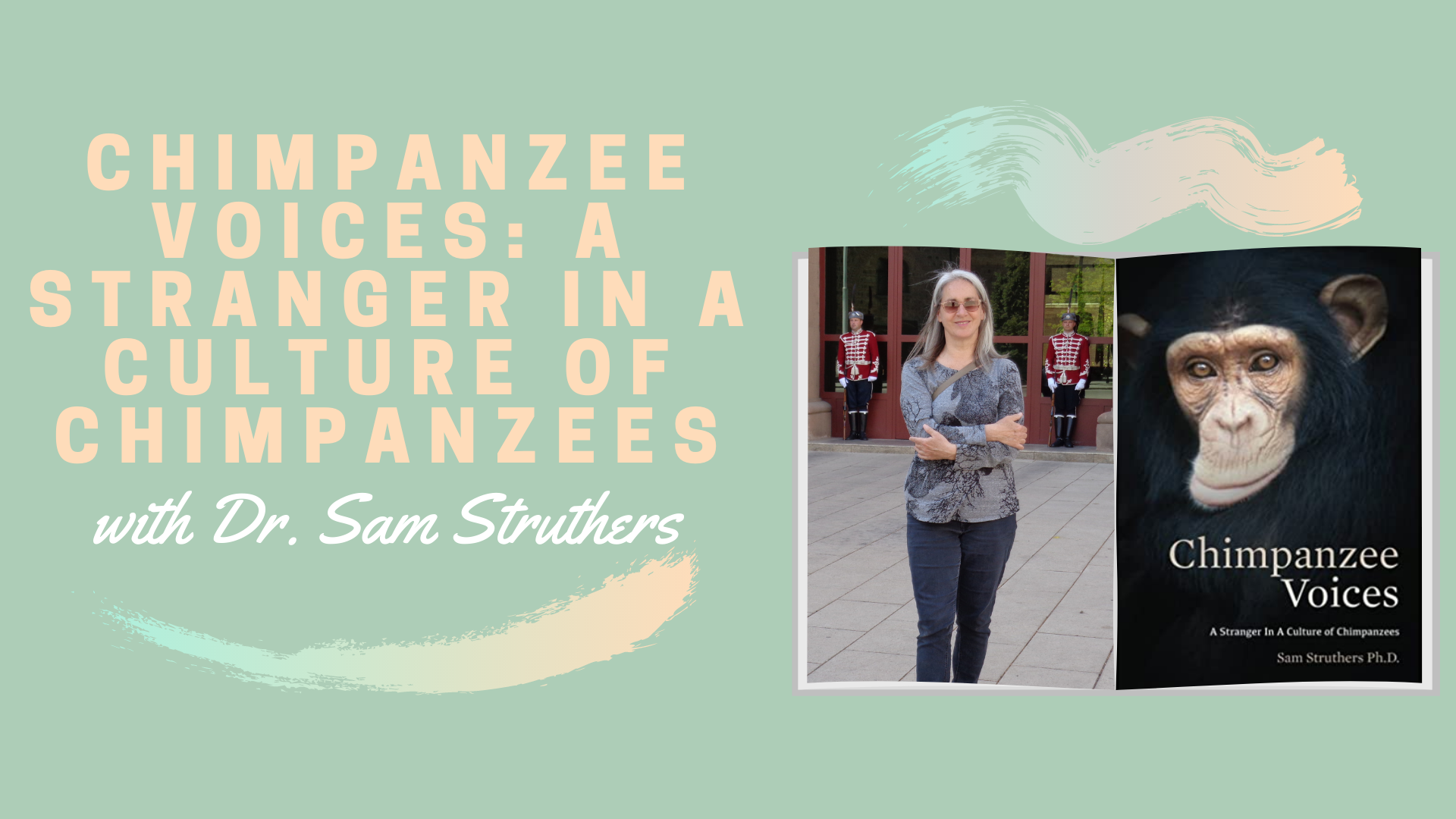 Chimpanzee Voices: A Stranger in a Culture of Chimpanzees with Dr. Sam Struthers
How did science find a vaccine for COVID so rapidly?  Why have we had the good fortune to experience longer and healthier lives than most of our ancestors, and at what price did that good fortune come? Surprisingly this question owes an answer to several generations of monkeys and chimpanzees who spent their lives in biomedical research facilities.  Attend a presentation by Dr. Sam Struthers, author of a book that both tells the stories of individual chimpanzees who were used in research, and also examines the ethics of animal research from a very personal level.
A decade of experience with apes in captivity at a Primate Research Center led to this remarkable book, which is equally memoir, analysis and critique of our dealings with others – human and not. Dr. Struthers' fictional work is based in science, but her book is equally a meditation on the ethics of biomedical research and a moving account of some of the subjects of that research. She confronts not only the rationale for subjecting our very near relatives to terrible diseases and lives in prison, but her own relationship with those processes. Many authors have addressed the ethics of using chimpanzees in research but few have provided an insider perspective of what the ethical complexities of such research might embody on a daily basis. This work offers a rare glimpse into the actual personhood of individual chimpanzees and their relationships with their human captors. This is a startlingly honest and deeply moving book. One reviewer writes; "As a lifelong English professor, I've not read a great deal of science. When I read this book, that mattered not at all. It made me laugh, made me cry, and not only made me think about questions I hadn't considered, it helped me think about them clearly."
Sam Struthers Ph.D., an anthropologist and occupational therapist, has accrued a wealth of experience in human health systems and cross-cultural practices as well as in the behavioral biology of great apes. She performed in the role as director of behavioral sciences implementing the animal welfare act and environmental enrichment at the world's largest primate research center for over a decade. Dr. Struthers, a Colorado College Anthropology graduate, has been a faculty member in two disciplines, a Fulbright recipient, and an award-winning poet. Today, she continues her work as a naturalist and advocate for children and animals.