Welcome to La Veta Public Library
---
The Library is open Mondays 10am – 7pm and Tuesdays through Saturdays 10am – 5:30pm
Print jobs can be emailed to print@lvpl.org.  You can also bring items to copy, scan, or fax in-person.
---

Every Wednesday morning – 10am June 7 to July 26.
---
Current and upcoming events: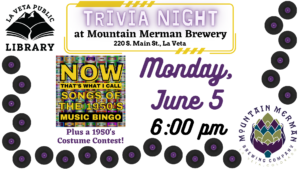 Monday, June 5 at 6:00 pm Mountain Merman Brewing Company 220 S. Main Join La Veta Public Library at Mountain Merman Brewing Company for "Now That's What I Call Music Bingo: Songs of the 1950's!" We will play samples on ...
Read More
Thursday, July 13 5:00-7:00 pm at Cuchara Community Center We are excited to have a Pie Baking Competition and FUNdraiser for the Cuchara/La Veta Public Library! Bake TWO of the same pie, one for the contest, one for the FUNdraiser! ...
Read More
---
Get in touch!

Email: info@lvpl.org       Phone: 719-742-3572

310 S Main St
PO Box 28
La Veta, CO 81055