Trivia Night: Decade's 1950's-1990's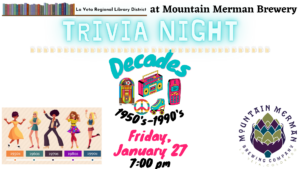 Friday, January 27 at 7:00 pm
Mountain Merman Brewing Company 220 S. Main, La Veta
Join the La Veta Public Library for Trivia Night: 1950's-1990's. 5 rounds,up to 7 people on each team. No electronic devices allowed-this will result in immediate team disqualification. There is no charge to participate in trivia. First place wins $25 off their tab, second place wins $15 off their tab, third place wins $10 off their tab. This week's theme is "Decades: 1950's-1990's with rounds: 1950's, 1960's, 1970's, 1980's and 1990's.

EARN BONUS POINTS FOR YOUR TEAM! Dress up to represent one of the trivia decades (50's, 60's, 70's, 80's or 90's) and your team will receive one extra bonus point per player in costume! In addition, if you dress up in the decades, you will also receive $1 off your first drink!

A great time guaranteed! Located at 220 S. Main, La Veta.